5 Interior trends of 2020
The interior trends in 2020
Every season we adjust ourthe decorations in our home and give a different atmosphere to our interior. But our interior style also changes every now and then. So we wondered, which interior styles are popular in 2020?
This blog is useful for anyone who is going to (re) decorate their house. We have listed 5 interior trends that are very popular in 2020 and that you can apply in your interior!
1. Natural materials
Choosing which materials to use when furnishing your interior is an important step. The choice of materials also largely determines the style you will have in your interior. The choice of natural materials gives a warm and light atmosphere. The materials you could use are: wood, but also fabrics such as wool and linen are very beautiful in this natural atmosphere. We also see that in 2020 more rattan will be used in an interior, this also gives a nice natural atmosphere.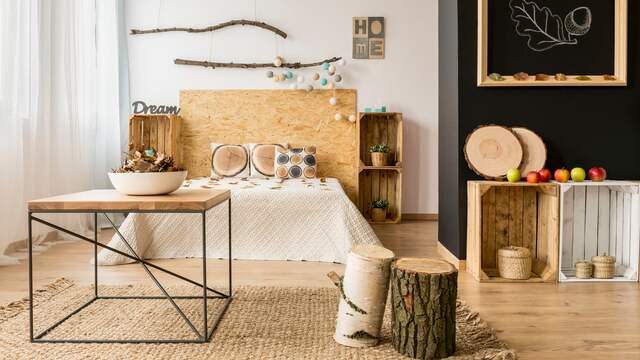 (Source)
The botanical style has also become very popular in 2020. The term botanical stands for everything that has to do with plants. The botanical style provides plenty of greenery in the house. In addition to the greenery in the house, the natural materials mentioned earlier fit very well. Rattan decorations, wood and cotton for example. There are also many botanical style posters with which you can decorate your interior. To view our posters go to our poster collection. 
(Source)
3. Light colored walls
The walls are often called the accent walls , an accent color is a color that you use in addition to your primary colors in your interior. Accent walls are increasingly found in an interior, and for good reason. The accent color provides a dynamic atmosphere to the room. In general, the larger the surface of the wall, the lighter the color. This ensures that your interior does not get too dark. Also, a light colored wall gives a nice opportunity for a Colored poster! 
 (Source)
4. Wall art as an eye catcher
The art on your wall makes your interior more personal. The art that you have on the wall is important to give atmosphere to the room. Wall art is increasingly used as a statement. For example, by hanging a large striking poster you can give a cool atmosphere to your interior. A big advantage of art is that you can easily change it to create a different atmosphere in your interior.
5. The minimalist style
The minimalist style quickly becomes modern, which makes it popular. The minimalist style is especially useful in a small apartment or small house. The minimalist style is in itself very spacious and therefore your interior looks bigger.
What changes are you going to apply in your interior? Let us know in the comments!