15 interior styles 
A study by Veneta into the various interior styles in the Netherlands has shown that the industrial, rural and modern interior style are the most popular by a large margin. However there are so much more variations you can use within these styles. We are going to name 15 of them here to give oyu inspiration for your own interior.
Popular interior styles
industrial interior
To start with the most popular living style, the industrial style. Many sturdy materials are used in this style, such as leather, wood, metal and concrete. If you would like to learn more about the industrial interior style, read this blog. 
Within the industrial interior style there are also many different variations possible. 
1. botanical industrial style 
You can combine an industrial style very nicely with plants. preferably large sturdy plants. Use natural materials such as wood and metal for the pots of the plants.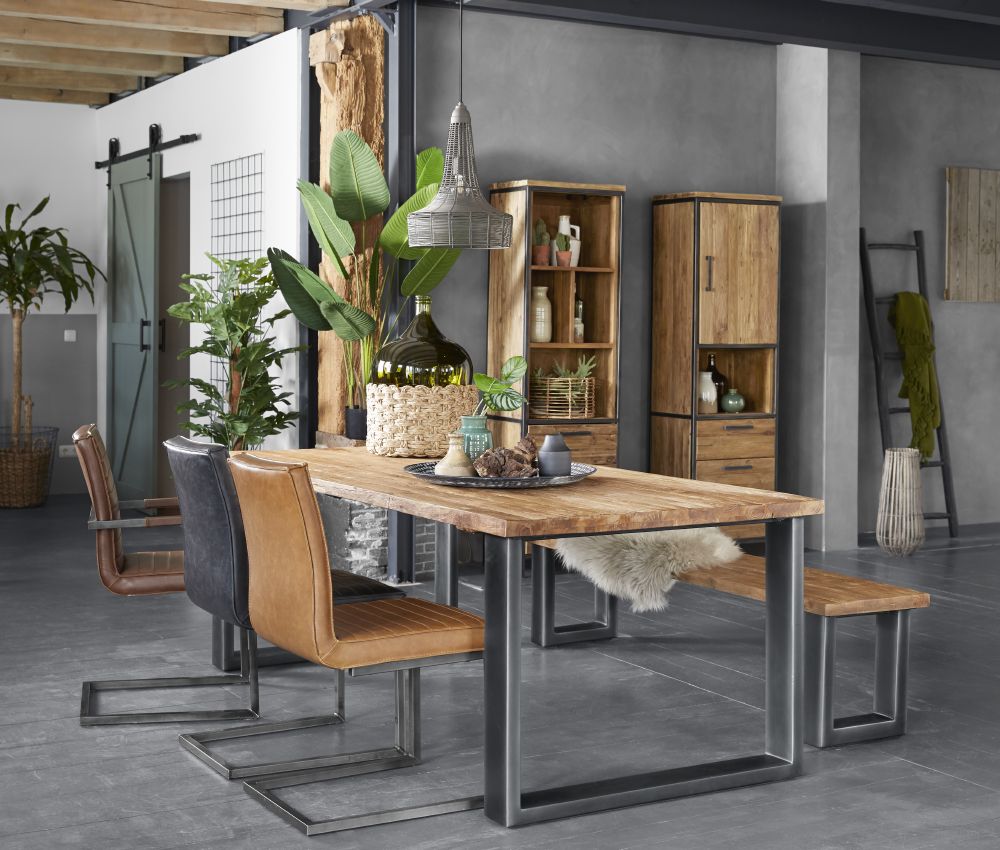 prontowonen
Use beautiful leather chairs in this interior style, as they easily give the dining room a cool atmosphere. 
2. Modern industrial interior
You can easily create the modern industrial style by replacing some industrial elements with modern elements. Think of the chairs at the dining table or the sofa.
interieur-inrichting
A beautiful modern chair in the living room can already provide a modern atmosphere. Use a color that goes well with the metal and wood colors, such as black and gray. 
3. retro industrial interior
The retro style is characterized by the 60s elements in the house. This style is also often called vintage and can be combined very well with the industrial style by having it reflected in the walls and by using a cast iron floor.
vtwonen
Of course, the style does not have to be as extreme as in this photo, but a brick wall with a retro sofa can be enough to make this style your own. 
4. Dark interior style
The dark industrial style uses dark wall and dark furniture. This makes the industrial interior even tougher. 
vtwonen
Beautiful natural elements and the dark color are the base. However, don't be afraid to work with wood a lot. 
5. Robust industrial interior
Robust refers to the decorations that are used. It concerns functional, but also large and sturdy decorations, such as a large flower pot or a large factory lamp in the corner of the room.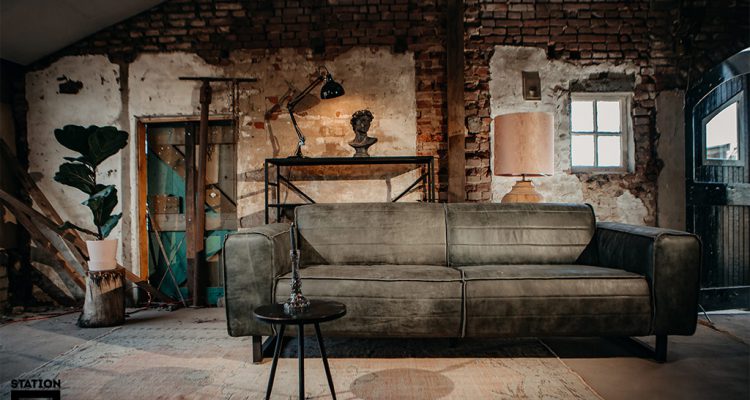 bouwgemak
In this style you can go all out with industrial elements. A brick wall, a cast iron floor and metal, wood and leather on all decorations.
Rural interior
The rural interior style is all about cozy and conviviality. Many warm elements are used, such as throws, cushions and woolly fabrics. Would you like to learn more about the rural interior style? Then read thisguide. 
6. Cozy rural interior style 
In this style, all soft cozy elements of the country style are emphasized. So use lots of pillows and throws. 
interieur-inrichting
In this style, opt for a soft sofa and decorate it with plaids to give a cozy and warm effect.
7. Light rural interior
This style is very similar to the Scandinavian style. It uses the country style and has white colors on the walls and in the decorations. 
Roomed
De mooie lichte sfeer kun je goed combineren met licht hout. Zo haal je toch een stukje natuur in huis. 
8. Botanical rural interior style
In the country style, greenery is already used, but in the botanical country atmosphere more emphasis is placed on the plants. A nice decoration in this style is many large plants and certainly also nice hanging plants.
homedeco
What you can really use in this style is a plant shelf (wall shelves with plants on it) or naturally beautiful botanical posters. 
9. vintage rural interior style 
What you can really use in this style is a plant shelf (wall shelves with plants on it) or naturally beautiful botanical posters.
thesassybarn
You can also combine this nicely with a light style in the house and with a farmhouse style it is of course also important to bring nature indoors with plants. 
10.antique rural interior style 
Do you like many classic elements at home, such as an old cupboard or antique clock? Then this antique country atmosphere is for you. For this style you use antique objects in the country style. 
luxuswonen
Give all the decorations you still have around the house a spot or otherwise look for nice decorations in the thrift store. There you will be able to score many nice articles with this style. 
Modern interior style  
The modern interior style stands for sleek and simple. The basis of the modern style is timeless, think of the black and white contrast. But you can also vary a lot in the modern style. If you would like to read more about the modern style, read this blog. 
11. Black and white modern interior style 
The black and white modern style uses a black and white contrast as a basis. This style is often minimalistic, but this does not have to be the case. Use a lot of black and white in this style, we recommend making the walls white, but a sofa or a cupboard can contrast nicely and therefore be black. 
 In this style you can decorate with black and white posters. Beautiful black modern doors are also beautiful eye-catchers in this interior style. 
12. Dark modern interior
In the dark modern interior style, mainly dark colors are used, but you still see modern elements. Those modern elements could be modern art on the wall or a large modern chair.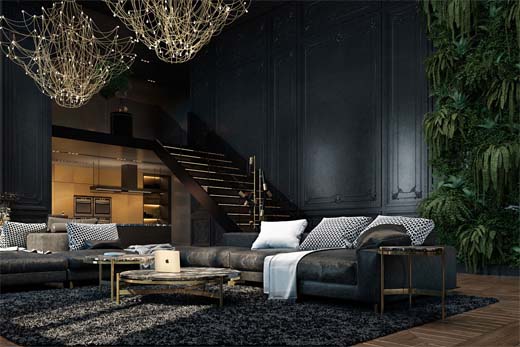 Bouw & Wonen
Dark walls often give a very warm atmosphere, you can make good use of this in the living room or bedroom. 
13. Scandinavian modern interior style
A Scandinavian modern interior uses light walls and lots of wood with modern elements. So use a lot of white and a lot of wood in this style. 
Nieuwewonen
In this style you can also decorate with dried pampas grass or dried flowers.
14. futuristic modern interior 
For now, we will only see a futuristic interior in luxury penthouses, but you can already use some elements in your interior. The futuristic style uses many geometric shapes, which you can also use when looking for a nice coffee table or for the island in the kitchen.
Iris Zijlstra
The futuristic style uses a lot of windows so will let in a lot of light. If you want to give a futuristic look to your living room, make sure your house lets in a lot of light through large windows or even better a glass wall. 
15. Luxury modern interior
You can create a luxurious modern interior by using unique elements that you do not see in every home. What can already give a nice luxurious effect is a beautiful wine cabinet as an eye-catcher. 
 Man Man
In this style it is very important that you use a lot of eye-catchers. Examples are large luxury planters or a unique kitchen island.
Do you now know which style you want, but do you want to read more about decorating this style? Then read this blog. 
Which style are you going to use in your interior? Let us know!